...and of a fantastic Ty Lawson.
In the end, when the final buzzer had sounded, a packed house at Cameron Indoor Stadium had to soak in the fact that Tyler Hansbrough and Danny Green would never lose in front of them. Those same fans that were watching third/third ranked North Carolina (22-2, 8-2 in the ACC) losing by eight points to their beloved sixth/fifth ranked Duke (20-4, 7-3 in the ACC) when the first half ended. Unfortunately for them, and all of the other Blue Devils fans, there are two halves in every game, and when the second one started it was very evident that whatever was said in the Carolina locker room was taken to heart by the players. In the end, after the second 20 minutes had been played, it was Carolina beating Duke 101 to 87, taking control of the ACC eight games after they had started 0-2 in the conference.

In a game amongst giants of the game it was 5'11" Ty Lawson the biggest of them all
(Picture from the net)
Let me just begin by saying this, the first seven minutes of the first half were very good for the Tar Heels, but then, all of a sudden, in the last part of the half they let go of everything that had gotten them an eleven point lead. Not so slowly, but definitely surely, Duke took advantage of that fact, and thanks to sub par defense (where Duke shot 63% from the floor), the eleven point lead became an eight point deficit, where it seemed that Hansbrough was non existent, Lawson didn't have his turbos, Ellington was back to missing shots and Green was not himself. Heck, if not for the ten points by Deon Thompson and the trio of three pointers by Bobby Frasor, the eight point lead by the Blue Devils would have been in double digits, without a doubt.



But as Duke fans rejoiced and UNC fans were either holding on strong, such as yours truly, or were finding one or more faults with their teams, as many web boards will point out, the two teams re huddled and when they came out of the locker rooms it was a different game. Could it have been what head coach Roy Williams said: "The streak is going to stop at some time, let's just put it off for another year." Or maybe the way Mike Copeland sparked up in the locker room, by throwing a chair. Or a combo of both this and many other things that we won't know about. I'm not sure, but whatever it was, Carolina's performance in the second half was the best twenty minutes they've had this season.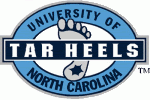 Hansbrough finished the game with 17 points, and made his presence felt inside and outside, hitting a three pointer as the Heels were up by nine and the shot clock was winding down. He was a different player in the second half, maybe due to the fact that the first half he had two fouls on him and he might not have wanted to pick up a third. On the other hand, after hitting 6 out of 9 three pointers in the first half, the Blue Devils went 2 for 15 in the second twenty minutes, and that was largely due to the tenacious defense that the Tar Heels brought out with them for the second half. One of the biggest quotes I found about this game was from Kyle Singler: "In the second half, we kind of had the mindset that we were going to outscore them. But you're not going to outscore Carolina." No, you are not, as they proved it, by demolishing Duke 67 to 35 after the break.



But having said all of this, this was Ty Lawson's half, going in the lane anytime he wanted and scoring at will. No one could stop him, and last night, he played like the Lawson we have been accustomed to, or as coach Krzyzewski said: Ty Lawson was great. Lawson was a pro tonight. This showed what a year does, Lawson took over a game that needed a leader to take over. This was not only good for him last night, but it's also good for him in the months to come, when the NBA decides who they want on their team. I said in my preview that the big key to this game was going to be Lawson against Paulus, and when it was all said and done, it was Lawson that made the difference last night. Maybe, just maybe, this game was a bit of a payback for Lawson, since he had to miss last year's game between UNC and Duke, where the Blue Devils beat the Heels at the Dean Dome (the only victory they have against the Heels in the last six meetings). Who knows, but you have to admit that once Lawson got it going on, it was not personal, it was phenomenal!



The bench shows 4 fingers, one for each time that Hansbrough and Green have left CIS with a win
(InsideCarolina/JimHawkins)



What more can be said about this game except for hitting once more on the fact that the Tar Heels played as well as they have all season long in the second half of this game. If they keep that type of play going they are a lock to be in Detroit for the Final Four, and have a good chance to win it all. But I will end with this, and even though I am still a fan of his, Dick Vitale was so "lively" when Duke came back from 11 to take the lead and go ahead by 8. He, and his side kick, were not as "lively" when UNC did the same thing, and much more, in the second half. Dickie V and the PTI crew (Kornheiser and Wilbon) should think about being a bit less biased and a bit more sports media!